hrlngrv
Alpha Member Since Jul 2016
74%
26%
Forum Post
Latest Insider Build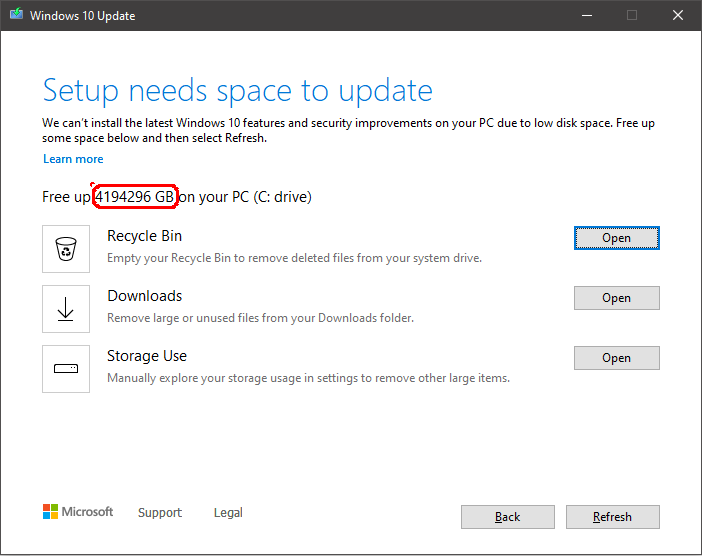 Is that all?
Forum Post
Insider Build 20257 Problems
Actually the problems have been upgrading from that version. Either 20257 or the immediately previous build (but I suspect it was 20257) added A LOT OF CRUFT which has prevented my from upgrading to the latest build. Roughly 3GB of cruft due to Facebook, March of Empires, Candy Crush and some other pieces of dreck which I had uninstanned AND purged from my system previous had reappeared. This may not seem like much of a burde, but I run Insider Builds in a VM with a fairly small C: drive. New Builds seem to require 12GB free disk space on C:, and with this new rubbish, I was down around 10GB.
This is the first time in a long time I've had problems ugrading to a new Insider Build. I expect problems with unfinished software like this, but I don't expect the reappearance of rubbish I've already cleared away. Also, this proved more of a chore than it had been the last time because of no longer being able to change permissions using icacls under C:\\Program Files\\WindowsApps. I had to add my Insider Build VHD as an extra drive for a Linux VM, run that Linux VM and use Linux to delete files from my Insider Build's C: VHD. And, for all those skeptics agast at my doing such a thing, the Insider Build works just fine after having done this.
Forum Post
Maybe a Problem
I run Windows 10 Insider builds in a VM, and VM performance ain't great on my home PC. That may explain this.
I have 4 accounts on my login screen. My usual account, tied to my MSFT account, and admin account, and two testing accounts which I only use to test odd UI combinations (and one of them doesn't have a password). My usual account is configured to show a solid color background when that account is selected. Different pictures are shown as the background when other accounts are selected. Upon booting, one of my test accounts appears at the top of the list and its picture appears as the background.
Yesterday, when I booted that VM, I somehow selected my usual account in such a way that the background image didn't change.
That's what I'm wondering could be a problem. I'd expect account sign-on to be among the most robust parts of an OS. If the background image change could be stymied, could other things related to login authentication be?
Forum Post
GSODs in Windows Insider Build 20152
I run Insider builds in a VM, and have been for years.
This is new for me with build 20152: when the screensaver would kick in, Windows throws a Green Screen of Death. Happened 3 times today.
Has this happened to anyone else?
Forum Post
Insider Builds Reconfiguration
Build 19577 installed overnight. Going through my usual reconfiguration today, I finally noticed something: new build installs don't re-enable the Windows 10 lock screen (IMO, a pointless feature on single user immobile desktop PCs), but they do reset shortcuts to display the shortcut arrow overlay. A small inconsistency, but if one can be left untouched, why not the other? Actually, there are a dozen changes I make which need to be remade with each new Insider build.
Forum Post
Explorer Window Weirdness
I moved my God Mode item on my desktop to Quick Access in Explorer, and it does something odd. God Mode backfills the classic menu.
Normal Explorer window with ribbon.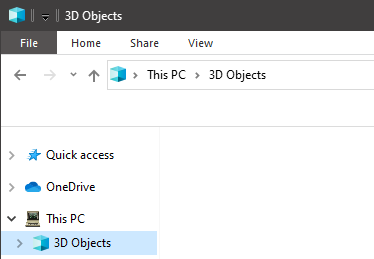 Odd Explorer window showing God Mode with menu.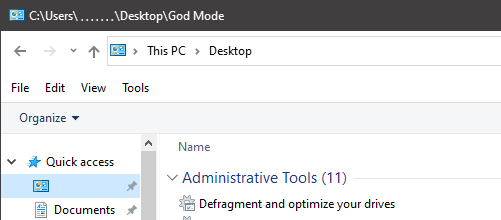 Fascinating that Explorer supports both UIs. Also direct evidence MSFT employees lie in effectively official comments. While Office 2007 was under prerelease testing, Excel developers claimed it was impossible to provide both the ribbon and the traditional menu. This seems to prove that was pure BS.
Forum Post
Just One Thing
Installed the latest Insider Build and am running my reconfiguration script yet again. [Tangent: also just upgraded Linux Mint from 19.2 to 19.3, which took less than 10 minutes.]
I understand that MSFT needs to reset a lot of things when installing new builds, but one in particular has become REALLY ANNOYING. Every time I need to change the registry NOT to show shortcut arrows. Why is this an ALL USERS setting rather than each user being able to change this setting just for themselves? Not that there aren't pointless reversions to individual user settings, so that with every new build I have to pick my personalized theme yet again.
A small thing, a very small thing, but sometimes those are the most irritating.
Forum Post
Tangent: what's your favorite odd web site?
For me, it's MapFight (https://mapfight.appspot.com/), to compare areas of various parts of the world to each other.
Forum Post
How much trouble could this cause?
Forum Post
Front Page Layout Selection no longer Persistent
I'm using Waterfox 56.2.7.1 for Linux.
The 3 buttons to the right of Recent Stories near the top of the front page of the site no longer change the layout persistently. If I select one of the non-default layouts, the layout changes. Then if I close my browser and relaunch it, the default layout appears again.
This isn't a problem with Opera, Chrome or Firefox, only Waterfox. Since this appears to be specific to Waterfox, a fix may be needed in Waterfox. I'm asking where I should start looking to find the setting in order to report it to Waterfox.
Forum Post
Windows Weekly -- Chrome OS Updating
Some discussion of Chrome OS updates.
I own a Chromebook which is now 6+ years old. Last summer, when it hit 5 years, it displayed a notification on the last 2 updates I received saying my Chromebook had reached end of support. I don't recall whether it said I should buy a new one, but it definitely hasn't received an update since then.
FWIW, it doesn't have all the latest features, but it still works well enough for how I use it. That said, I won't be replacing it with another Chromebook. Mine is so old it predated the now standard keyboard layout, and I can't stand that keyboard layout.
Forum Post
Windows 10 Insider Builds: what's your biggest annoyance?
For me since Build 17666 I've had to use Powershell commands to be able to launch the MSFT Store app. Many threads in Feedback about this, and I've upvoted a few.
Forum Post
Office Insider Builds
Perhaps not surprising, Office Insider builds aren't MSFT Store desktop apps.
I had the MSFT Store version of Office 365 installed in the VM in which I run Windows 10 Insider builds. Then I opted to receive Office Insider builds. That automatically converted Office to installed the old-fashioned, non-Store way. Interesting that given the frequency with which Office would be updated, MSFT doesn't use their Store to do so. Then again, maybe there's enough Windows 7 and 8.x Office Insiders that that would be impractical.
Forum Post
What's your must-have laptop feature?
For me it's a joystick pointer. I'm just not used to trackpads, and I don't like them anyway. I also couldn't get used to trackball mice placed on the side of a laptop.
Second is inverted T cursor keys, meaning Up/Down keys the same size as Left/Right keys, so no HP or MSFT laptops for me.
I'd love more 3:2 or squarer display options, but I'm not holding my breath.