Later this year, Microsoft will be releasing a large update to Windows 10 currently known as Redstone 3. This update is expected to have more features and enhancements when compared to what Redstone 2 (Creators update) delivered which includes the UI being revamped.
We have already seen a few concepts from Microsoft that show the general direction the company is headed and I have managed to get my hands on a few more videos that show the animations coming with this update too. Keep in mind these are still an early view of what Redstone 3 should bring to the table but know that features and animations may change or be cut before release.
First up is the updated Mail app for Windows 10 that shows off a refreshed design with a softer highlight animation when hovering over an item. This image is not the final version of what the Mail app will look like as there is a significant amount of unused space (above the inbox area) but it provides a good look at the direction the application is headed when designed around Neon principles.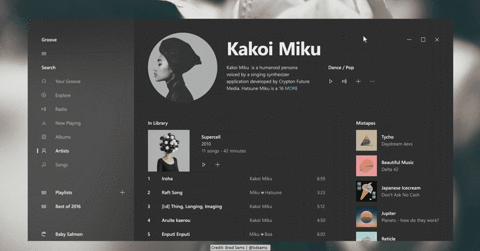 Further, the minimize and maximize buttons are more integrated into the app experience. I'm not sure if this is because this is still a concept but it may be an idea the company is exploring.
In the Groove app (to the right), we can see more of the Neon design language being shown off. If you look at the portrait of Kakoi as the window is being moved, the image is subtly moving around inside that profile window; it's a small effect that some may like, especially if you are a fan of parallax websites.
You can also see in the Groove app the consistency in the designs between it and the mail app with a single toned navigation panel and the content area being a slightly different shade of the navigation area.
When it comes to the touch interface, here is a small glimpse at what the tablet UI may look like after being updated to support the Neon style. The soft splash animations when tapped adds a subtle layer of polish to interacting with content on the screen.
And finally, we know that placeholders are expected to return with Redstone 3, the image you see to the right may be what the company is using to represent the files that are still in the cloud. The feature may be called on-demand files when it is released later this year.
Microsoft will likely reveal much more about Redstone 3 at its Build conference which takes place in mid-may. For now, know that this update is shaping up to be much more substantial than the Creators update.
Aside from visual updates, there is a lot more going on under the hood as well. Once I am able to fully digest and verify those fun bits, I'll be sure to pass them along.
Tagged with Windows 10, Redstone 3, Onedrive Placeholders